Inloggen
Als u een account bij ons heeft, meld u dan aan.
Dont have an account? Registreren
CREAM PR'S PODCAST 'KOPLOPERS IN FASHION' FEATURED IN ELLE MAGAZINE
14 May 2020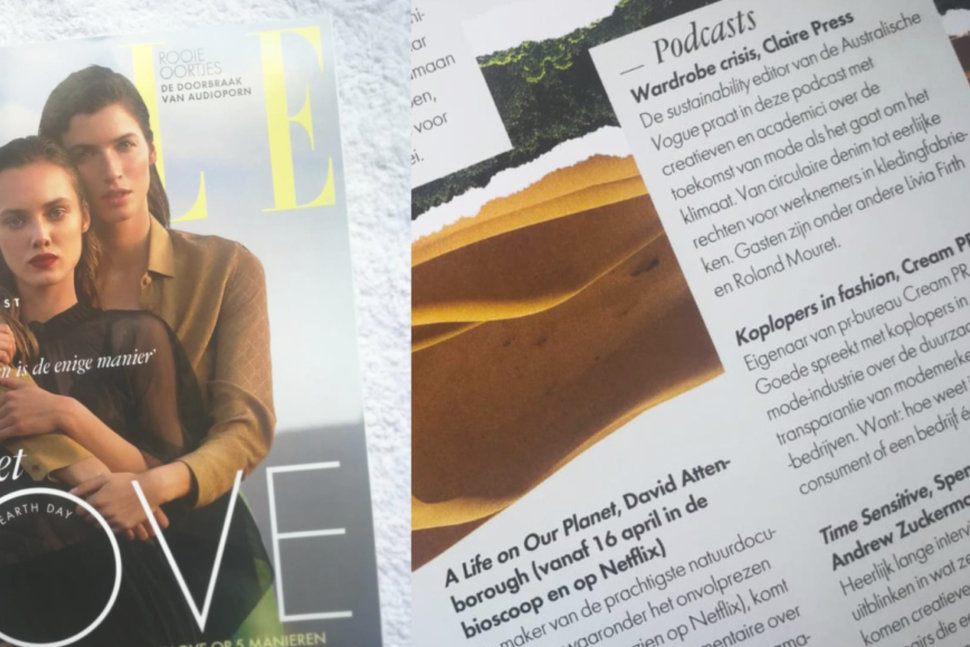 11 April 2020_ We are very proud our podcast 'Koplopers in Fashion'  is featured in ELLE's latest edition. Being mentioned between authorities as David Attenborough and Australian Vogue editor Claire Press is a major honor. ELLE magazine's 'reading, listening and watching' suggests books, documentaries and podcasts discussing our climat as hot topic. Thank you so much @Elles Beijers of ELLE magazine.
If you want to listen these series, consisting out of three podcasts with sustainable fashionbrands: Rhumaa, truly circular loop.a.live and Reshare the second-hand and vintage stores of Salvation Army, check this link at ITunes,  or other hosts as Spotify, Podparadise or Podtail.
We all know the clothing industry is the biggest polluter after oil, which is why sustainability has been on the agenda for years. Sustainable production and transparency throughout the entire chain is a must. How deep do you have to go as a fashion brand to be truly sustainable and to make a difference.
Annet Goede, founder of Cream PR and initiator of AllGoods made these podcasts together with leaders in the sustainable fashion industry. AllGoods, established in 2019, for impactful public relations within the field of textiles, footwear, lifestyle and fashion, around sustainability, circularity and inclusivity. A lot of knowledge has already been collected from frontrunners. On the other hand, there are many questions and ambiguities. How do you know as a user whether a company is really green, is it a first step or does it seem more than it is? How deep do you have to go as a brand to be truly sustainable and to make a difference. Unfortunately lots of people are still stuck in rusted behaviour buying numerous and infinite new items, for zero-nothing selling prices. Without considering the desastreus effects for our planet and workers at the starting point of the clothing/footwear industry chain.
Our main goal was to communicate and express our intentions for AllGoods in a clear and honest way by interviewing true and sustainable expertised frontrunners. It is not easy to change consumer behaviour, but somewhere we have to start and every step is one!
Apologize for non-native speakers, the podcast is recorded in Dutch language.
About
AllGoods is a PR and retailer minded platform that can be contacted at all times, with the purpose of creating high impact public relations within the domain of fashion, textiles, footwear and lifestyle regarding circularity, sustainability and inclusivity. The core team consists of a consortium of innovative frontrunners that  deliberate on joining organizations, labels, events and other opportunities.
We facilitate a representative space showcasing latest products with possibilities for informing workshops, inspiring brand presentations, sales-and PR meetings and special occasions for all involved AllGoods parties at CAST in Nieuwegein. From this place we can also stretch our reach towards relevant retailers, in addition to the current ideas and plans. An important factor and incentive for consumers.
Besides ELLE  'Koplopers in Fashion' was alo mentioned at: